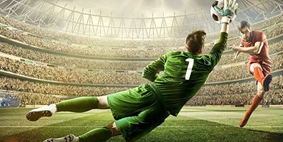 SOCCER LAYS
August Results
| | |
| --- | --- |
| 1st August | WON |
| 2nd August | WON |
| 3rd August | WON |
| 4th August | LOST |
| 5th August | LOST |
| 6th August | WON |
| 7th August | WON |
| 8th August | WON |
| 9th August | WON |
| 10th August | LOST |
| 11th August | WON |
| 12th August | LOST |
| 13th August | WON |
| 14th August | LOST |
| 15th August | LOST |
| 16th August | WON |
| 17th August | WON |
| 18th August | WON |
| 19th August | LOST |
| 20th August | WON |
| 21th August | LOST |
| 22th August | LOST |
| 23th August | WON |
| 24th August | LOST |
| 25th August | LOST |
| 26th August | WON |
| 27th August | WON |
| 28th August | WON |
| 29th August | WON |
| 30th August | WON |
| 31th August | WON |
Professional Soccer Lays

From over 20 years of knowledge and intense study Soccer Lays brings a service that shows good returns on a consistent basis. Soccer Lays specialises in providing low priced selections. All selections are carefully researched. There is usually 1 selection a day. Long term profits are GUARANTEED with Soccer Lays. Tips are simple level stake bets. No crazy staking plans to follow. A betting bank of 75 points is recommended. Selections are either provided the evening before or early the following morning.
Profit Graph
Recent Statistics
Below are some recent statistics and numbers from Soccer Lays.
| | |
| --- | --- |
|   STRIKE RATE | 85% |
|   LONGEST WINNING RUN | 38 |
|   LONGEST LOSING RUN | 3 |
Pricing
The current price is just $39 per month or $89 per quarter.
When you click READY TO GET STARTED? JOIN NOW! below you will be taken to the payment page to set up your subscription. Our services are strictly limited as to ensure the integrity of and value of the information. If the "Join Now" button is deactivated, email us, and we will contact you when a place is available.
Register today to secure your place!